All About His Father
Turkish director Hasan Semih Kaplanoglu in Competition at the Berlinale with HONEY, the final installment of his trilogy about a child and its difficulties in growing up.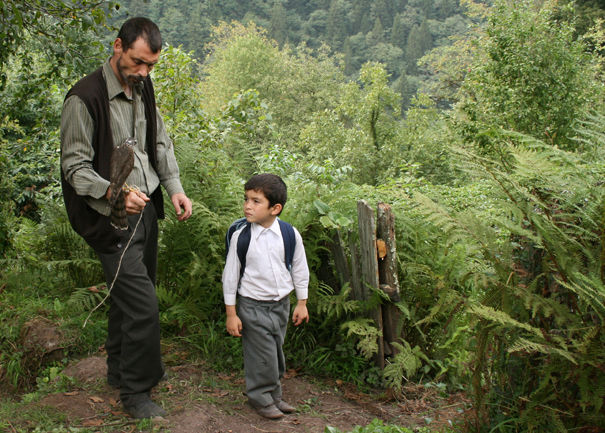 HONEY
In his new film HONEY (BAL), Turkish director Hasan Semih Kaplanoglu deals with the complex theme of childhood. The movie is the final installment of Kaplanoglu's "Yusuf" trilogy. EGG (YUMURTA), was the first part and came out in 2007, followed by MILK (SÜT, 2008). The trilogy is named after its protagonist Yusuf and is based on experiences from the director's life. HONEY once again focuses on Yusef (brilliantly played by the young Bora Altas), whose father, a beekeeper, means everything to him. He has some communication problems with his mother with whom he hardly speaks. Also, he has some difficulties at school, since he is afraid to read in front of people other than his father.
Just like its title HONEY has different meanings, the film deals with constant polarities, on both technical and narrative levels. The outside world represents the civilized world, whereas the indoor world evokes nature in a very rough and pure way. On the other hand, the cinematography – which is impressively beautiful – shows great contrasts between darkness and brightness.
The director uses many devices in order to portray his story in a very realistic way. The cinematography, which was influenced by the Dutch painter Vermeer, never uses any artificial light, so that the viewer is not diverted from reality. Moreover, the director did not use any music, since he did not want to manipulate the audience. On the contrary, he preferred to use the sound of nature in ambiguous and mysterious ways. HONEY has a very slow rhythm, mostly due to length of the fixed framing and the lack of dialogue. In the film, the physical language appears to be more accurate, especially Yusuf's glances, which say more than a thousand words.
Hence, in very subtle ways, Kaplanoglu presents a beautiful story, which may still be too long and lacks a deeper emotional implication – perhaps since the film is mostly seen through the eyes of a child. HONEY deals with complex themes, with how experience will – in Yusuf's case – shape a life. The director only uses a few camera movements, but they always have their justification such as in a scene in the school, when the suddenly moving frame reveals Yusuf's growing shame and his school friends' staring at him. Kaplanoglu's film mirrors life which can be as sweet as it can be rough.
---