Can the Market Solve Africa's Problems?
Director Ulrich Köhler tackles some long-standing issues in SLEEPING SICKNESS, shown in the Berlinale Competition.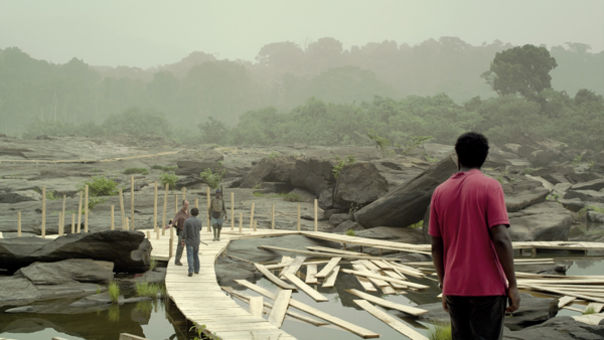 SLEEPING SICKNESS
The dark continent – Africa – is indeed full of never ending problems. From the lack of proper hospitals to the corrupt nature of the local officials, the hope of a better future for the continent quickly fades away. It is with no flattering intent that German born Ulrich Köhler clearly brings out this message in his 91-minute Berlinale Competition film SLEEPING SICKNESS (SCHLAFKRANKHEIT, Germany), which delves into subjects such as developmental aid and common acts like bribery that do more to give Africa the appearance of a sleeping continent.
The film revolves around the life of the disillusioned German doctor Ebbo (Pierre Bokma), who is in Cameroon as an aid worker to study the sleeping sickness. The departure of his wife and daughter to Germany leaves him lonely to the extent that he cannot continue the proper management of the project. He is lost between worlds and continents. SLEEPING SICKNESS opens with dark lit shots of the police holding Ebbo's daughter coming home from school without her passport. It says a lot that this problem can be solved quickly by Ebbo paying the officials a small "gift".
The long takes of the beautiful green forests and the vast rivers smoothly fade into black bringing out the rather dark side of the dilapidated environments of the Cameroonian village where the film is shot on location. Once again, the idea of a "sleeping" continent is brought up. Back in the village the obvious mistrust of the local authorities is further extended to those in Europe from where aid for the continent seems to come. Evidenced through the outrageous remarks of the African politician who declares that "only the market can solve Africa's problems," one wonders how this is possible when the same class of individuals have low opinions of their own homeland. Upon the arrival of the project evaluator Alex Nzila, Ebbo realises that he cannot face his failure and disappears from the scenery. Alex, on his part, is shocked to see that the hospital looks more like a poultry farm than a health centre.
On the whole, SLEEPING SICKNESS is not such a great film. The multitude of themes leaves the audience unaware of the director's intentions. There is simply no time to build them up sufficiently. On top of that, the film comes to a rather unexpected ending. While the project evaluator sails away to unknown destinations, the casual emergence of a hippo leaves the audience in wonder.
---