SHOOTING STAR
A big budget, the country's biggest stars, and a Big Brother-like film studio. It's a day in the life of the Philippines' biggest commercial director filming her next big blockbuster.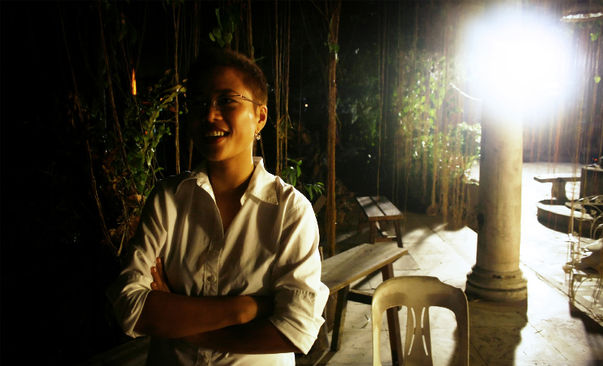 Director Cathy Garcia-Molina
"We've got a problem," director of photography Noel Teehankee whispers to her. "We don't have the lights we need 'cause they were shipped this morning to Malaysia." He smiles at her sheepishly. She smiles back. In Cathy Garcia-Molina's set, everyone's smiling. Even when they're fuming mad.

We're at an abandoned mansion shooting Star Cinema's latest film MISS YOU LIKE CRAZY. (Star Cinema is perhaps the Philippines' most prolific mainstream film studio.) The cast and crew have been shooting for almost a week now. Continuously. No actual breaks. "We haven't had any sleep," Cathy tells me. A few hours ago, they packed up at five in the morning, and then went straight to the editing room to start cutting. After that, they had those edited clips approved by Star Cinema management. It's now 5:30 pm and the sun is about to set. Why are they all smiling? "This is how we are every Valentine's - we kill ourselves with work," Cathy says. For the last couple of years, Star Cinema has been releasing a rom-com during Valentine's. They've all scored big bucks.
It's January 27. MISS YOU LIKE CRAZY is set to show on February 22. So far, they've shot 60% of the film. In two days, they're leaving for Malaysia to shoot the rest. "I haven't made a film that didn't have a playdate," she says. "But that's how it is in Star Cinema. As you saw a while ago, we didn't have the right lighting equipment. But what can you do? These are things that people don't know about us."

Cathy is probably Star Cinema's hottest property right now. She's directed eight blockbusters for her mother studio - including last year's YOU CHANGED MY LIFE, which earned over 240M in Philippine pesos and is the highest grossing Filipino film of all time. It's been quite a journey for the single mom (her husband died last year due to a car accident), whose directing career started in 1999 when Star Cinema was looking for an assistant director to replace Olivia Lamasan, who was then being launched as a director. The assignment was simple: a one-camera shoot for the youth-oriented TV show GIMIK. "Your role here is to reprimand the teen actors," director Laurenti Dyogi told her. "You'll discipline them." A year later, she was asked to direct an episode of MAALAALA MO KAYA, the drama anthology considered to be the training ground for the studio's upcoming directors.
Her big break happened in 2005. She was having a delicate pregnancy and gave birth in September. Just a month after, she received a call from her mentor Olivia Lamasan: "I know you just gave birth, but would you like to do a John Lloyd-Bea project with Unilever?" A month later, they were rolling. The project was the Close-Up toothpaste brand promo flick CLOSE TO YOU, where teen actors John Lloyd Cruz and Bea Alonzo were first introduced in the big screen.
Today, Cathy is under contract to direct three pictures every two years. Good enough for someone who started in the industry making coffee for the production crew. "Son of a bitch, I studied four years in the University of the Philippines (the prestigious state university) to make coffee for you? Is this part of the job? Yes. Sorry, but yes. You can't have a lot of pride here. But you do have to have some self-respect. It took years of sacrificing before getting here. I even sold encyclopedia, going door-to-door."
"Do you read Peyups or Pinoy Exchange?" Cathy whispers to me. They're shooting cast interviews for the film's promotional featurette and the production manager just screamed, "Quiet on the set!"
Peyups is the online discussion website of the state university's community, while Pinoy Exchange is a frequented online forum. "I read one time: The people in Star Cinema do not think," Cathy says. "It really hurt me. You know, when I was a student in U.P. Film, I was like that. I'd attack all the commercial films of Star." She laughs. "But come on, if we can make a good story, why not? But that's not how the system works! There are budget limitations."
I point out to her that her films have budgets of over 25-30M (a local independent feature film is commonly produced within a budget of one million). They've all grossed more than 100M each, except probably MY ONLY Ü, which grossed 79M. "That's true, but we're talking here about 30M. That's not small," she says.
"Why risk something that big for an experimental film?" Cathy says that MY ONLY Ü is a perfect example. In the film, she tried using an unconventional storytelling format. "But look what happened, it didn't earn," she says. "This is a business. We may want to be out of the box, but it's not that easy."
"Quiet on the set!" the production manager screams. Cathy looks at me and laughs. "The best way to change the industry is to start inside, not by criticizing," she says. Cathy's dream movie is a musical. She's pitched it to the management, but to no avail. "Tita Malou, maybe we can try this out," she recalls telling Malou Santos, one of Star Cinema's top honchos. "I understand why she doesn't want to do it. Because I'd be fooling her if I say, Tita Malou, this will earn, promise!"
Cathy says that whenever she thinks about the control Star Cinema has on her, she looks back at that one afternoon in esteemed local director Marilou Diaz-Abaya's directing class where they had an argument about the merits of independent films. "Indies shouldn't forget commercial value because you have to make people come and watch your film," Diaz-Abaya apparently told them. "You can't just be auteur all the time," Cathy adds. "If your attitude is like that, perhaps you yourself are killing your own industry."
"Look, there's no ugly film until you're able to make one. At the end of the day, I'm just telling a story," she says. "And I happen to make it according to the taste of the crowd because I believe filmmaking is entertainment."
"Indies are a different school of thought for me. I don't have their strength. Very brave stories. But that doesn't make our films poorer in quality. You know, indie and commercial should be merging, not separated. Just think about how it'll be if their intelligence and our commercial skills merge."
"Direk Cathy and I are like lovers," lead actor John Lloyd Cruz says. "We've known each other for eight years. We've been on and off. We always fight. I'd say something that would hurt her. Little things. We're like characters in movies."
They just finished shooting one of MISS YOU LIKE CRAZY's pivotal scenes. There's a short break. About a dozen fans somehow got pass security and are inside the film set - their camera phones aimed solely at John Lloyd, perhaps the country's biggest star right now.
I tell John Lloyd about Cathy's thoughts on commercial and independent films and he smiles. "There are many people who instantly think negatively about commercial films. There's a sort of disgusto, to the point that's already offensive," he says. "But it's a challenge to create and portray simple, common characters. Do they think it's easy? Many people, especially those who belong to the indie movement, they think mainstream characters are shallow and easy. But why don't they try it out? Why don't they try to portray common characters that you bump into everyday? Sometimes I pity us from the mainstream - they think we're all shallow."
He pauses because we couldn't hear each other. The mansion is located right beside a river and there's a marching band practicing on the other side. They're now playing "God Only Knows" by The Beach Boys.
"I respect everyone. But we all have our own pros and cons. In indie films, for example, the stories have a different flow. Many don't get it. Sometimes to the point that it's impressionist. I respect that." In 2007, John Lloyd appeared in independent film STILL LIFE. He says he'd be more than willing to do another one. "Just let me see the script."
"She makes you think. You're not like a puppet." I'm talking to lead actress Bea Alonzo, who's talking about Cathy. I share with her what her director and leading man told me a few hours ago. "They're right, because people think lowly of us. As if we're less passionate. But we're exerting the same level of hardwork."
Bea says the only thing she hates about her job is that she gets stuck with good girl roles. "We can't decide for ourselves. Star Cinema has the last say on everything. We have scenes where I'm supposed to smoke, where I'm supposed to curse, but it's forbidden because I apparently have an image to protect. But I do agree with them."
It's close to midnight when dinner is finally served on set. We're in a makeshift dining area under a giant tree. Our only source of light is the set of Christmas lights still attached on the tree's branches. The marching band is still practicing. "Two more days, Noel, two more days!" Cathy tells her cinematographer. It's close to midnight when dinner is finally served on set. We're in a makeshift dining area under a giant tree. Our only source of light is the set of Christmas lights still attached on the tree's branches. The marching band is still practicing. "Two more days, Noel, two more days!" Cathy tells her cinematographer.
Noel Teehankee, who's worked with Cathy in almost all of her films, borders on stereotype: Ear piercings, a goatee, a shaved head, a swagger, an English accent. When I ask him if compensation is good in Star Cinema, he answers: "It's funding my beers and comics and PS3, so I'm happy." After spending a day on set, I realize that not only has he got major skills, but the guy's probably the kindest one there. "When we shot YOU CHANGED MY LIFE, I didn't sleep for three weeks straight," he shares, smiling. "We haven't slept for the last week and we're flying to Malaysia in a few days to spend another batch of sleepless nights. That's work for us." Noel is still smiling. "A mainstream studio shooting abroad is a practice in independent craftsmanship," he says. "I'm excited."
"I'm scared, to be honest," Cathy tells me over our catered dinner. "Are people prepared with the film's tone?" Apparently, MISS YOU LIKE CRAZY is not a rom-com. For the very first time, Star Cinema is putting out a romantic drama for Valentine's. "The story is slow, similar to BEFORE SUNRISE. That's why we're very nervous. I hope it's received well. If it becomes a hit, then I'll make one more step towards unconventionality. So, I hope, I hope."
The marching band starts playing another song. "How many hours have they been there?" John Lloyd quips. They're playing what seems to be a Brazilian dance tune. "Is this Tahitian?" Cathy asks. She stands up and starts dancing to the beat.
A crewmember approaches her. "The people who made the film poster are coming in. They're going to show us what they made. Apparently, it's not your usual Star Cinema poster."
Cathy smiles at him. "Even if I have revisions, can anything still be done? If it's been approved by the management it's already final, correct?"
"Yes, Direk, correct."
"Okay. Let's just dance."
Cathy gets back to dancing. The band continues to play.
---