The Wound's main actor on the film that set social media on fire
By Charl Blignaut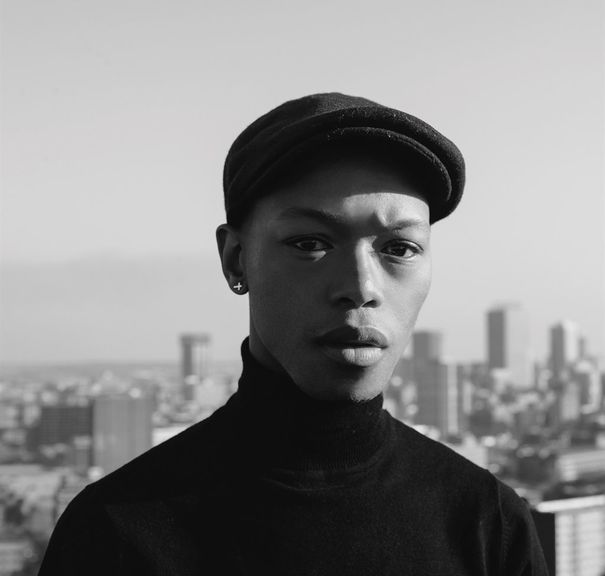 Singer-songwriter Nakhane plays a gay Xhosa man in the award-winning and controversial THE WOUND (photo: Tarryn Hatchett)
Singer-songwriter, novelist and actor Nakhane (he dropped the Touré) was asked to work on the music for the film INXEBA (THE WOUND). He ended up playing the lead. It's an tisiXhosa gay love story set in the mountains during initiation and it's fanning social-media flames and picking up awards. He had lunch with Charl Blignaut.
At the SA Music Awards last year, just before he was about to go on stage to perform a tribute to the late pop goddess Lebo Mathosa, Nakhane received a phone call. It was his former church, where he'd been a choir star, calling to say he'd been excommunicated for promoting homosexuality with the release of his closet-busting debut album Brave Confusion.
"Jesus! Melville. There's cute guys," he says looking at a man on the street as we have lunch. We'd first met in these same streets a few years ago to discuss that album. Today, he's just come from recording the electronic press kit for his second album, an international deal with BMG. He's in a dapper brown jacket with handcrafted epaulettes and a cap. His skin is clear, his eyes are bright.
A lot has happened since our first meeting. He's writing a new novel. "I'm trying to write less postmodern this time." He's heading to London to master the album. "That last song that I sent to you was actually me trying to figure out what Simphiwe Dana would sound like if she made electronic music." And Inxeba, the film he stars in, is about to have its South African premiere at the Durban International Film Festival. "Oh God."
Was it weird, seeing the film?
Yeah, it was weird! Cos it's not me at all. I play Xolani. We come from different backgrounds, poor guy, he's a bit of a doormat. He's a factory worker who's also a caregiver who goes every year to the village to take care of the new initiates. But deep down inside he's really going to satisfy his sexual relationship with another caregiver, Vija, who's a married man with children. This particular year, an initiate from the city, Kwanda, who's quite affluent, is entrusted to Xolani. Over time he sees that there's something going on between Xolani and Vija and from then on it's almost like a tug-of-war between these three characters.
I haven't seen the film yet, but I believe no actual details of the rituals are shown. But I remember tweeting the trailer and hundreds of people jumped on my timeline, furious that the Xhosa passage to manhood was being exposed to the world. There was quite a lot of homophobia, but mostly it was around "what happens at the mountain stays at the mountain".
What's your response?
(A long pause.) I should probably have a quicker answer to that by now, shouldn't I? You know, I understand people's grievances and I understand why people are angry because this is their culture, right? And people feel their culture is being "sold". Cos that's the word I'm getting: "Nakhane sold our culture." I sort of want to pick that sentence apart. Cos it's always "our" culture. And there's also always a sort of exclusion of people like me in this culture. It's my culture too. Do I not have a say? And when we're talking about culture, which era? When? 1200s? 1600s? Because things change all the time … Women giving birth is no longer a secret rite of passage like it used to be. Xhosa women don't really go to initiation any more … Why is it the only thing that is so protected in our culture? This thing that has to do with masculinity. And me, as a queer person, I am a virus anyway in this culture. Unless I'm entertaining you and I'm fun. And funny...
So the film has a white director, John Trengove, who's very talented and also queer. Thando Mgqolozana, a literary star, wrote the script with Malusi Bengu, but they're not directing it. May a white man depict this culture and, also, has anybody asked why you chose to do it? That's if that's okay with you?
I'll answer the second part first, why did I choose to do the film? When John called me to tell me Inxeba was a thing, initially to do the music, I was excited because I felt it was a story that's not really told. Then he called and said, "Would you like to audition?" I said, "Ugh, God, John, I haven't done any acting since my Afda [film and performance school] days. I know I can act but I don't even know if I'm good." I auditioned a few times and my character Xolani ended up being the lead … It was my story. And no one was gonna tell that story, and if they did, like on social media when those queer Xhosa boys sometimes do, the straight Xhosa boys make them feel like shit. Tell them that they're perverted, that they're drama queens, that nothing like this ever actually happens. Then I get stories of men saying they were sexually assaulted, stories of abuses that happen at the mountain, that are shut down. Are those stories shut down because they're told by queer people?
I saw a few men on Twitter saying, yes, this happens, but it's our secret, we don't talk about this.
So people's traumas are secrets ... But they're also society's secrets and then society forces them to feel shit about it. I got hit on all the time when I was there. And I remember thinking, what is God trying to do? Because I was still a Christian and was trying to straighten myself out and I thought it was a space where I would be my safest. And that wasn't the case at all. I had propositions from guys to sleep over. "So you are gay, right?" "Uh, no." "No, you are, it's okay, can you come sleep over tonight?" And I'm like, "no, gross!" So that was one of the first reasons I did it. Cos it was my story.
Did initiation hang over your life?
Of course. But I'm happy I did it. Cos I think it has its problems, but I think it can be incredibly fulfilling and beautiful when it's done right.
In your novel [Piggy Boy's Blues] and your songs, there's conflict about that time. Was it triggering making the film?
Yeah. Yeah. It took me a good six months to get over it. I had to go back to a place of self-hatred. The taunts, the fear I had, the power straight men had over me. The fact that someone came inside my hut and threatened to kill me, to burn me inside my hut, because I was a kid from the city who thought they were better than everyone else … And you want to please your father and your family and your community and your friends. Because it's hell for a Xhosa man who hasn't been to initiation. He can't go back home without being treated like shit ... But Xhosa straight men feel that this is their story and no one else is allowed in there. But what about the other Xhosa men who feel victimised by their culture? I will have a conversation with anyone who wants to talk with me about this, respectfully. But when you're coming at me, calling me a f***ing faggot who we should punch in the face, I'm not gonna talk to you.
And travelling with the film to Sundance, Berlin? How is it understood?
Overseas it's understood by some for what it is and then there are others that are, like, "ugh these practices are old-fashioned, outdated, barbaric". Which I was always fighting against. I think some foreign press felt that we were critiquing the culture, and the film's not a critique at all, none whatsoever.
But you still haven't answered the part about the white director?
I was uncomfortable initially cos I knew what that would mean, the problematics around it ... But Thando and Malusi were part of it and I believe it was a collaboration. Even when we were shooting. Did I enjoy making this film? No. It was too painful.
Are you glad you did?
Yes … Never have I been more Xhosa in my spirituality than after this film. I mean, four people in my family are sangomas. Now I phahla every day to my ancestors...