Producing Films at the Berlinale
Talent Press meets a working producer and director, with a particularly personal project in the Berlinale Co-Production Market.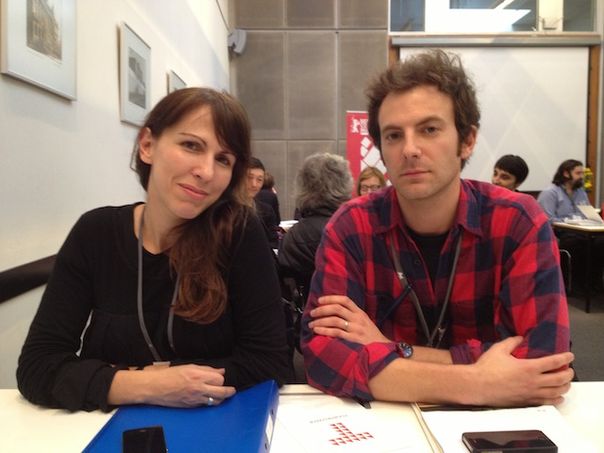 Paula Vaccaro and Aaron Brookner
From developing filmmaking craft to tackling the business of filmmaking, the Berlinale Talent Campus in cooperation with the Berlinale Co-Production Market helps upcoming directors develop projects within the film industry. Aaron Brookner and his producer Paula Vaccaro are part of the Talent Project Market with their deeply personal feature SMASH THE CONTROL MACHINE, as they work to complete the vital stages of pre-production. The film tells the personal story of Aaron Brookner's uncle, director Howard Brookner, who inspired Aaron to make films when he was a child. Howard Brookner died of AIDS in 1989 and yet his work, including the documentary BURROUGHS (on which Jim Jarmusch worked as sound recordist) and the feature BLOODHOUNDS OF BROADWAY is much revered. For Aaron Brookner, the Berlinale provides an opportunity to make a very personal project a reality.
Considering the support of the Campus Brookner says: "They structure it very well. They spend two days, intense days, preparing you for really all aspects of what you're going into: be it pitching, the personal element of a story, both physically and intellectually and learning about these complications of co-production financing strategies." Brookner also feels that being at the Berlinale has put him on a platform for potential partners "they're showing up to meet you and they want to meet you and you're on a higher ground."
Producer Paula Vaccaro acknowledges the financial challenges of making a project by a new director, saying, "I work with bigger directors and known names and when you're out there trying to look for finance for newer directors. I think they become in danger of not being able to develop artistically." Elaborating, she points out that, "a place like this to a director in the right moment in their career is really nurturing, it's key to gaining a brilliant network, it's key to being validated by people who do finance films."
With Jim Jarmusch recently announced as Executive Producer, the project's prospects at the Berlinale look increasingly promising. Paula Vaccaro notes that "if someone like Jim will trust the project then others will trust the project." Aaron Brookner adds: "In Europe, Jim Jarmusch is a very important name. He has contributed immensely to the landscape of interesting cinema, so he gets attention."