We Are Still the Same Species: LA LIBERTAD DEL DIABLO
By Carlos Armenta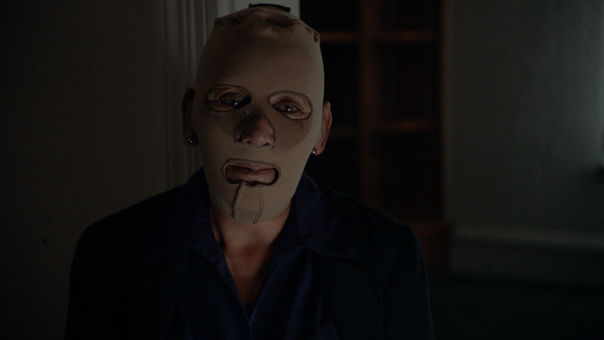 Still from Everardo González' documentary LA LIBERTAD DEL DIABLO
The sixth documentary feature by Mexican Everardo González, LA LIBERTAD DEL DIABLO, starts with a voice-over that announces "we still are the same species." It is under this motto that González and his team build this documentary. That is the central point of the film: placing the victim and perpetrator at the same discursive level.
In the documentary we see a group of people on screen who have been directly involved in Mexico's recent violence. We are told their own experiences and history throughout interviews: daughters who have never again seen their mothers, mothers who find the bodies of their children, deserting soldiers, murderers, and hitmen. Their faces are covered by a mask that barely allows them to breathe, see or talk; it maintains their anonymity. It is as though that sinister face in Franju's LOS OJOS SIN ROSTRO has jumped from fiction to documentary. The interviews, from various points of view, give the spectator a sort of polyphony. In this ravaged country we already know the victims' stories, but we rarely listen to the perpetrators' versions.
The documentary goes even further. In each interview, we can observe the rural scenery that filled the Golden Age of Mexican cinema with pride. However, in these ghost towns we also see the presence of children, women, men and soldiers wearing masks that by now have become a relevant visual motif.
The only element that might raise some suspicion is the use of music to give the film a dramatic emphasis. Nevertheless, this does not take any merit away from the documentary. This is one of González' best works. He gives voice to the tortured but also to the torturer and, at some point in the film, gives them their faces back; in the end, yes, we are the same species.