James Schamus Answers Ang Lee's Big Question
Claire Lee of the Talent Press 2014 reports from the panel "Once Upon A TIme: How To Start A Film", featuring Michel Gondry, James Schamus and Greta Gerwig.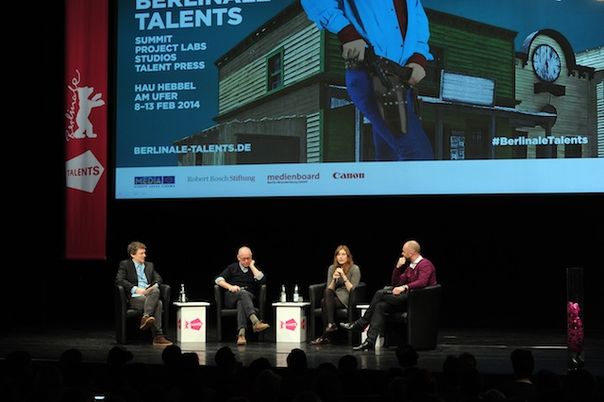 Michel Gondry, James Schamus, Greta Gerwig and moderator Matthijs Wouter Knol
Academy Award-nominated screenwriter James Schamus, best known for his work with Ang Lee, took the stage during the special session "Once Upon a Time: How to Start a Film" for Berlinale Talents on Sunday to discuss why working with Lee is always one of his greatest challenges. Apparently, the Taiwanese-born American director always asks Schamus the "most annoying single question" that a director could ask his screenwriter. And that question is: "Why?"
"Once you get into a story, it's pretty much the last thing you want to do, to ask that kind of question, because we're involved with the characters and where they're going, with plotting, and it becomes a bit of an engineering problem", Schamus said. "But really it is an incredible mandate to feel as if there is some reason why we're doing what we're doing. Yes, so it is annoying."
Schamus, who is the head of this year's Berlinale's International Jury, attended the event along with fellow jurors, French filmmaker Michel Gondry and American actress and screenwriter Greta Gerwig. Schamus is inarguably one of the most significant people in Lee's film career. He wrote the script of Lee's 1993 Golden Bear Winner THE WEDDING BANQUET, as well as screenplays for Lee's 2007 sensual thriller LUST, CAUTION and the 2000 wuxia film CROUCHING TIGER, HIDDEN DRAGON. Schamus also produced Lee's 2005 epic romance BROKEBACK MOUNTAIN, which was nominated for an Academy Award for Best Picture.
"A lot of Hollywood is immigrated culture", Schamus said, when asked about what it is like to work with Lee, whose cultural background is very different from his. "But it was interesting especially when we went over to England to make SENSE AND SENSIBILITY ... constantly people would be asking you: 'Wow, how did this Chinese guy make a Jane Austin movie?' There really were two responses. One was, 'Well, white guys make movies like FLOWER DRUM SONG,' or whatever. And the other one was very simple: 'He's really good.'"
Among the films on which he worked with Lee, LUST, CAUTION remains Schamus' favorite. When asked by one of the Talents participants why the film focused on "sexual romance over politics", Schamus said he disagrees with the assumption completely. "Sex is the politics", he said. "That Chinese woman's character doing that, saying the things that came out of her mouth – that kind of radical concept of female sexuality that opposes every political, patriarchal order that is being pushed down on her... to me that's the essence of the movie."