Blue Comedy
Stellan Skarsgård gives a wonderful physical performance in Hans Petter Moland's A SOMEWHAT GENTLE MAN, shown in Competition at the Berlinale.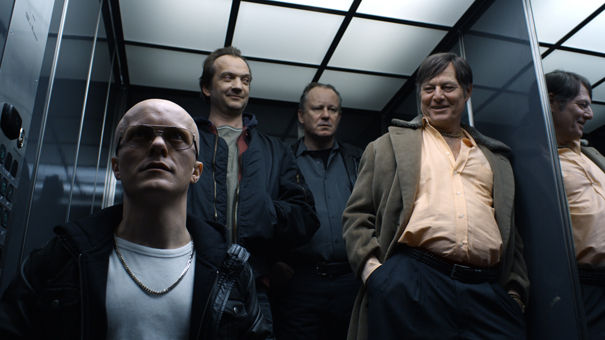 A SOMEWHAT GENTLE MAN
In 1995 Hans Petter Moland opened a new chapter in Norwegian film history with his internationally acclaimed ZERO KELVIN (KJÆRLIGHETENS KJØTERE). In his seventh feature, the grotesque black comedy in Berlinale Competition A SOMEWHAT GENTLE MAN (EN GANSKE SNILL MANN, Norway), he works once again with the actor Stellan Skarsgård and experienced cinematographer Philip Øgaard to strip the characters to their barest state. The greyish blue tonality of the images fits perfectly with the story of the released convict, Ulrik (Skarsgård) who tries to find his place after 12 years of prison.
Ulrik is welcomed by his gangster friend, Jensen (Bjørn Floberg) and Jensen's clumsy sidekick, Rolf (Gard B. Eidsvold). Jensen puts Ulrik rapidly on the track of revenge regarding his conviction by the denunciator. And again, Jensen helps him rent a dirty basement room with a not-at-all gentle lady owner. Ulrik gets a job as a car mechanic where his boss is not afraid to give him philosophical lectures about life in his own peculiar way. Our main character meets his ex-wife and learns that their grown-up son is married. So Ulrik goes to see the couple. Although he seems to be doing fine after his enforced vacation, he actually just gets dragged along through his new life. Even if he doesn't like the situations he gets involved in, after all, he is a somewhat gentle man, so he does nothing.
The protagonist is literally framed by the story – which is almost trivial in comparison with the strictly cinematic elements that make up the movie. These essentials are the brilliant work of the actors, their facial expressions and gestures, the scenes, the lighting, the dialogue, the music etc. The most important component of all, however, is the black – in this case rather bluish – humour. The film is practically an arsenal of awkward situations involving various scenes of life: birth and death, eating and sex, family and working. Through exaggerating the environment, characters and atmosphere, the director occasionally shifts the content to surreal realms.
Mastering the visualization of the grotesque through acting, filming and atmosphere, the director manages to bring to life cinema in its purest form. These contents probably could not work through any other medium, and the director finds the best way of presenting them. This is cinema where the delicacies of human nature are made painfully hilarious.
---