Soaring Past the Truth
Tara Judah of the 2014 Talent Press reviews Dominik Graf's period drama BELOVED SISTERS, which features in the Berlinale Competition.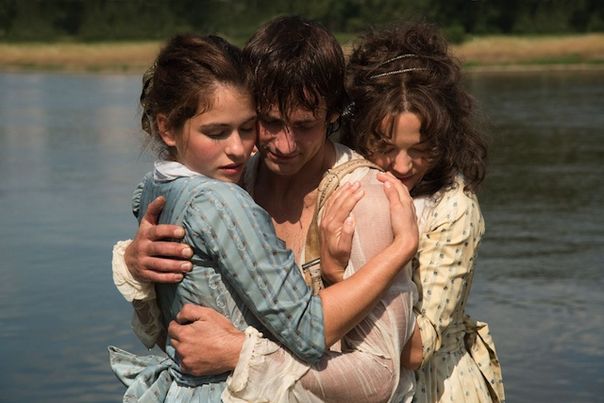 Dominik Graf's BELOVED SISTERS
Indulging in that taut space between biography and imagined history can easily seem ridiculous. But it doesn't seem to matter when it's as obviously tongue-in-cheek and enjoyably rambunctious as Dominik Graf's Berlinale Competition film BELOVED SISTERS.
Establishing its timeline through dates that fly unapologetically into frame, breaking any sense of historical authenticity, Graf's intention to play with the truth is so bombastically in your face that its near three-hour running time never lags. Though it is punctuated by recorded events, including the storming of the Bastille and advances in the printing press, Graf isn't interested in telling a story confined by facts or generic tradition.
Imagining what was written in Caroline von Wolzogen's (Hannah Herzsprung) deliberately destroyed letters – hoping to exclude something from the biography of her brother-in-law, Friedrich Schiller (Florian Stetter) – Graf leaves no melodramatic stone unturned. Everything is so far over the top that even the metaphorical becomes literal, when our kindly narrator tells us "Now she hears the music of tragedy", Graf cues the music of tragedy. Symbolism that has become exhaustingly clichéd is given a new lease of life as Graf's droll self-awareness permeates each of the pointless establishing shots; letting the score match the image of a soaring bird or linger a little too long on the wind in the trees just before someone rustles up trouble.
Corny moments and soap opera elements aside, what makes BELOVED SISTERS such a joy to watch is its playful insistence on the uncertainty of historical documentation. Triangulating Caroline and Friedrich's torrid love affair is Charlotte (Henriette Confurius). The three express themselves through a series of coded letters, which makes getting at the "truth" of their relationships near impossible.
If overtly veiled images and deliberately performed character interaction weren't enough, Graf excuses himself with a passing quip from Schiller's lips, "Literature can cope with inconsistencies." The film may be unreservedly histrionic, and only occasionally historically accurate, but it is never boring.