A World Of Images
Priscila de Almeida Xavier of the 2013 Talent Press Buenos Aires reports from this Talent Campus Buenos Aires' last lecture, given by artist Giselle Beiguelman.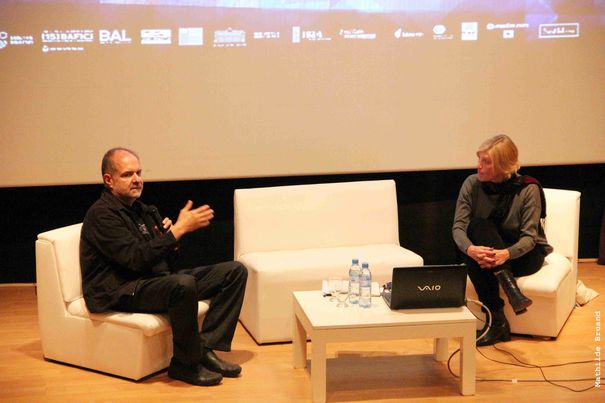 Artist Giselle Beiguelman and moderator Jorge La Ferla at the Talent Campus Buenos Aires 2013.
The last session of the 8th Talent Campus Buenos Aires took place on Monday 15th, April. Its guest expert was artist Giselle Beiguelman, who spoke about the relationship between visual arts and the use of new technologies. Giselle's lecture served as a complement to the subject discussed during the whole day: the future of film in view of the technological changes brought about by digital production.
During the introduction of the conference, moderator Jorge La Ferla described the current context that surrounds film. The key point was to discuss the idea that we live in a society based on images, and that film has ceased to be restricted to the big screen.
Giselle gave statistics to show the astonishing participation the social network has in our lives. According to her, "images are decisive in how daily life operates". The relationship between what is virtual and what is real is nowadays an anachronistic dichotomy. What is virtual is not separated from reality. The social network is unequivocally all around us.
Spectators watch films in the most different types of screens, be it a PC, a tablet, or even a cell phone. Filmmakers have started to shoot films taking this into account, taking advantage of the new technologies. They have started using smaller cameras and are even directing films without actually being present on set.
According to the artist, we are living in a post-virtual era. The predominance of images has changed our perception of the world, a world where filming or taking photos has become a synonym of living. A moment can only be "lived" if it is in some way recorded.
In this sense, the rule is to share. Everything we "live" has to be shared in the social network. The line that divided public from private has begun to weaken, what is personal and what belongs to the public domain is no longer clear. The lecture ended with the introduction of the concept of "cannibalization of the screen". The screen as we know it today will gradually disappear, absorbed by multiple screens. Film plays an important role in the appropriation of these technologies and in reversing the logic of image consumption.