Discursive Entertainment
A lack of subtlety and ambition prevents Berlinale Forum's STATE OF VIOLENCE from being more than just an entertaining revenge tale.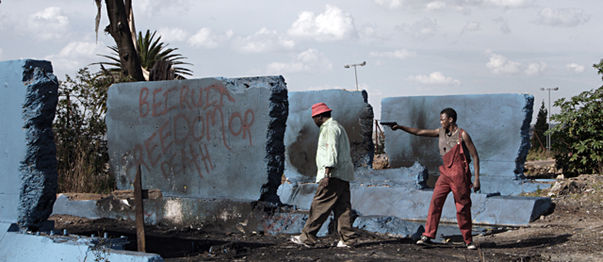 STATE OF VIOLENCE
Bobedi (Fana Mokoena) is the CEO of a large mining company in Johannesburg. He doesn't speak his native tongue anymore, he lives away from his old neighbourhood and he's no longer in touch with his own family. He lives in a luxurious house perfectly remote from poverty and popular resentment. But surprisingly, one day an intruder enters his house and murders his wife before his very eyes. As could not be otherwise, and as we've seen in a hundred films before (recently in EDGE OF DARKNESS and LAW ABIDING CITIZEN), he begins his quest to find the murderer and to quench his thirst for revenge.
That's the basic premise of STATE OF VIOLENCE (South Africa), and despite its striking beginning, the movie falls into the tiring platitude of presenting a couple perfectly in love, smiling and saying sweet things to each other, having sex and hugging. It's clear director Khalo Matabane wanted to foreshadow the movie's sense of irritation and loss, but paradoxically, he would probably accomplish it better without having to use that easy mechanism, perhaps showing a normal and more credible relationship.
But then the story starts to improve. Bobedi goes back to his old neighbourhood only to find that he's not well received at all; some unknown wrongdoing in the past causes everybody to watch him distantly and angrily. The viewer can assume that his early links with guerrillas have to do with it. At this point Matabane pulls off two major achievements: The first is that he takes his time to tell the story, letting the characters breathe, think and transmit real emotions, without resorting to the quick and hasty editing that prevails in mainstream cinema. His second triumph is the way he allows, little by little, Bobedi's questionable reactions to come to the surface – outbursts of unnecessary violence, for instance – that elicit contradictory feelings in the viewer, a sense of discomfort about his character.
Finally, there's the main idea stated explicitly in the movie from beginning to end. "When you dig a grave for your enemy, you dig two," says an old friend of Bobedi's. That issue – the way hate can spiral, the way violence begets violence – is an unavoidable truth, but it shouldn't be so heavily underlined. STATE OF VIOLENCE is an entertaining movie, but fails miserably in trying to be something more than that.
---