Before the World Ends
By Richard Bolisay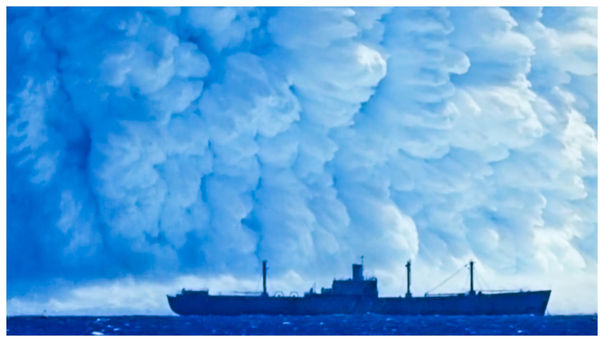 Still from THE BOMB / AtomCentral
"The designers of the first atomic bomb were concerned that a nuclear detonation might ignite the earth's atmosphere and kill every living thing on earth. They went ahead and tested the nuclear device anyway." This is the first fact about nuclear weapons listed in the programme notes distributed at the Berlinale screening of THE BOMB (Kevin Ford, Smriti Keshari, Eric Schlosser, USA). Such information supplements the harrowing yet completely engrossing experience of seeing it, as the subject relates to dangers of a global scale but one that has been mostly overlooked over the decades.
Initially presented at the 2016 Tribeca Film Festival as a multimedia installation, with floor-to-ceiling screens and live music at the center, the version shown in the Berlinale Special section is a 61-minute film that combines archival footage from countries with nuclear weapons such as the United States, Japan, India, the United Kingdom, and North Korea, from the 1940s to the present. Art-directed by Stanley Donwood, these images are manipulated with incredible attention to detail — small and large texts, numbers and scribbles appear and disappear on-screen — an effect that heightens the emotional heft.
Enriching it further is the live music by the four-piece rock band The Acid, whose layers of sounds provide THE BOMB with a rather soulful quality. With their perfectly timed crescendos and evocative interstices — with simulations of testing and attacks, as though the viewers suddenly found themselves in the middle of a nuclear war and felt its effects — they are crucial to the creation of an overwhelming atmosphere of alarm, one that goes beyond technical innovation and towards something more meaningful: a call for action to look into humanity's worst crime, and a reexamination of the role of governments to prevent the total destruction of the world.
It is only understandable that with this multimedia work, the three key people behind it come from different backgrounds. Ford is a director, editor, and cinematographer; Keshari is a multimedia artist; and Schlosser is a journalist and writer known for his essays on Hiroshima and nuclear war, and whose book, "Command and Control: Nuclear Weapons, the Damascus Accident, and the Illusion of Safety", has inspired the project. With numerous audiovisual elements, its effect is full. More than letting the audience experience the enormity of nuclear technology, THE BOMB displays an emotional core that looks to humans for answers and solutions. It is a strong statement on how this urgent problem can be addressed: there is no way to undo all the harms caused, but only humans themselves can mitigate a looming extinction.