Digging the Past
Ruben Demasure of the 2016 Berlinale Talent Press reviews the Midi Z's documentary CITY OF JADE.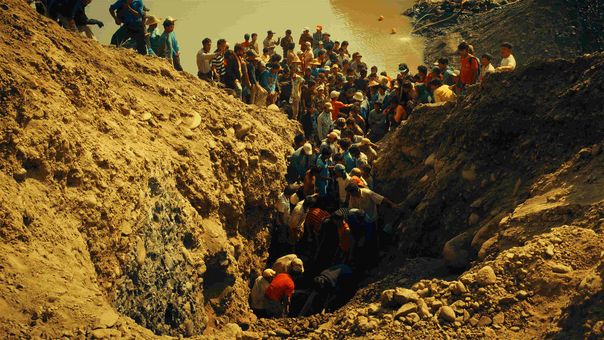 Midi Z's documentary CITY OF JADE.
"I've been picturing this place in my mind for years," begins Burma-born and Taiwan-based filmmaker Midi Z in his documentary CITY OF JADE (FEI CUI ZHI CHENG, Taiwan/Myanmar). He's talking about the jade mines in Myanmar's war-torn Kachin state on the border with China. Because of the conflict, companies left the site to illegal treasure hunters, the filmmaker's missing brother being one of them. He had been released for opium abuse, the family last heard. In the film, the director finds his sibling who left sixteen years ago on his gemstone exploits. Midi Z's mission mirrors Robert De Niro's attempt in THE DEER HUNTER (1979) to save a close one from drug-infused risk-taking in a Hanoi hellhole and bring him back home.
The director's quest to gain a picture of his brother and these mythical mines has taken different iterations. For his documentary debut JADE MINERS (2015) he wasn't allowed to travel to the region himself and so he made a compilation of footage that locals shot for him. At this year's International Film Festival Rotterdam, he presented the project in an installation, MY FOLKS IN JADE CITY (2016). Right at the beginning of the CITY OF JADE shoot, the director's camera equipment was confiscated by the Burmese army. Therefore, all the footage was shot in secret with consumer cameras.
The technical restrictions result in an arresting aesthetic with the mountain landscape drenched in a digitally noisy, saturated color palette. Matte-like gold and orange hues haunt the hills and contrast with the stark blue tarps on top of the miners' shacks. It brings to mind Richard Mosse's Venice Biennale installation, THE ENCLAVE (2013), in which the use of infrared stock turned his war imagery pink. Here, the colors cast the environment as an expressionist, surreal and psychedelic impression of his brother's mental landscape. Just like the miners manically turn over a stone to check it for cracks from all sides, the brother doesn't expose his core that easily.