Insight from the Balcony
Rasha Hosny of the 2016 Berlinale Talent Press reviews Avo Kapealian's documentary HOUSES WITHOUT DOORS, which premiered in the Berlinale Forum section.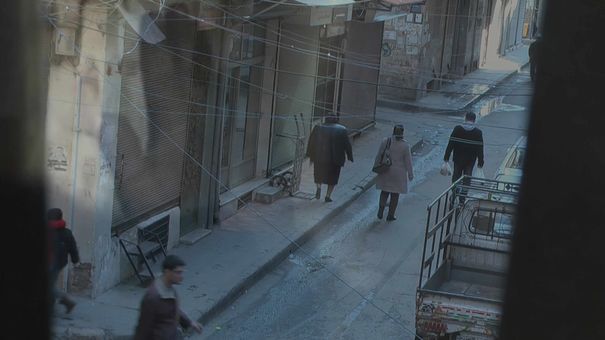 Avo Kapealian's HOUSES WITHOUT DOORS
HOUSES WITHOUT DOORS (Manazil Bela Abwab, Syria-Lebanon, 2016) by Avo Kapealian is a documentary in the Berlinale Forum about the refugees in Aleppo, a city that sheltered persecuted Armenians 100 years ago and now houses many displaced Syrians.
Kapealian made a comparison between the Armenians' situation 100 years ago and the recent crisis of the Syrians, and the similarities are striking. Syrian and Armenian refugees were displaced and had to cross many borders searching for justice and safety for themselves and for their children.
The filmmaker shot his film with a small hand-held camera so most of the photography is out of focus and unstable. This helped in reflecting the rockiness of the situation. Throughout the film, Kapealian shot the daily routine of his neighborhood from his balcony, showing how war has affected people's every day activities. On the other hand, some shots felt redundant and unnecessary as if the director kept repeating himself pointlessly.
The director's mother stated in the film that children's perspectives have changed completely since the war started. For example, they began viewing life as a matter of blood, bombs and war. Even their games became acts of war using their toys as weapons.
HOUSES WITHOUT DOORS is an experimental documentary since Kapealian did not follow the traditional documentary form. Instead, he let the story be the driving force. The use of archival footage of the extermination of Armenians at the hands of Turkish soldiers mirrors the current situation of Syrian refugees. By doing so he shows us how history keeps repeating itself, and how Armenians are once again being displaced.
Despite AND because of the many challenges the filmmaker faced, the documentary ended up being a successful experiment on how to overcome difficulties in front of and behind the camera. Kapealian made this movie to capture the attention of the whole world. He wanted to say that something horrifying is happening in this place on earth.